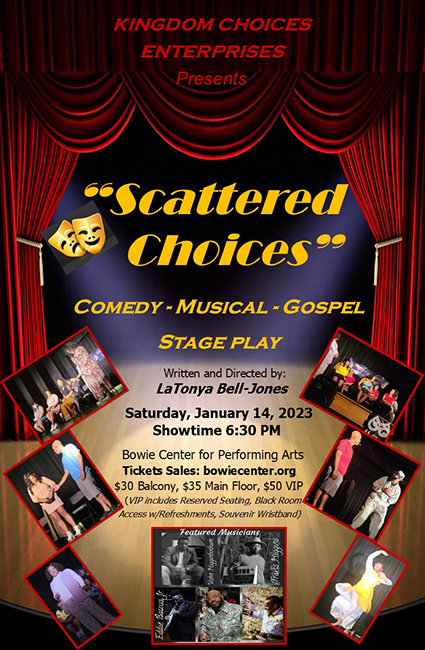 SCATTERED CHOICES was written to portray some of the good, bad, right, and wrong choices we make throughout our lives that affect our lives and/or the lives of others. Our hope is that you fall in love with the messages, characters, songs, etc. of SCATTERED CHOICES as the characters make modern day choices regarding sex, love, drugs, violence, etc. while attending the Kingdom Choices Retreat Camp (KCRC).
As the characters attend KCRC, they share the SCATTERED CHOICES they have made, will make, and/or are desiring to make with various expressions of comedy, love, anger, prayers, songs, violence, and dances. Most importantly, the characters learn from their booklet, "12 KINGDOM CHOICES to Live Heaven on Earth." As such, they learn to call and turn the good and right choices they make into KINGDOM CHOICES which are choices that line up with the WORD of GOD.
It is our goal to give everyone who attends the stage play a free copy of our booklet so they too can have an understanding of KINGDOM CHOICES. Prayerfully, attendees will read it and come to an understanding that we desire to encourage or help you "Draw close to GOD as HE draws close to you" (James 4:8) in an intimate or more intimate relationship as a result of seeing our stage play and reading our booklet. To GOD be the glory, Amen!
NOTE: VIP Tickets include: Reserved Seating, Black Room Access with Refreshments (Intermission and After Show), Souvenir Wristband and/or Mug, and Autographed Program of Cast Members.