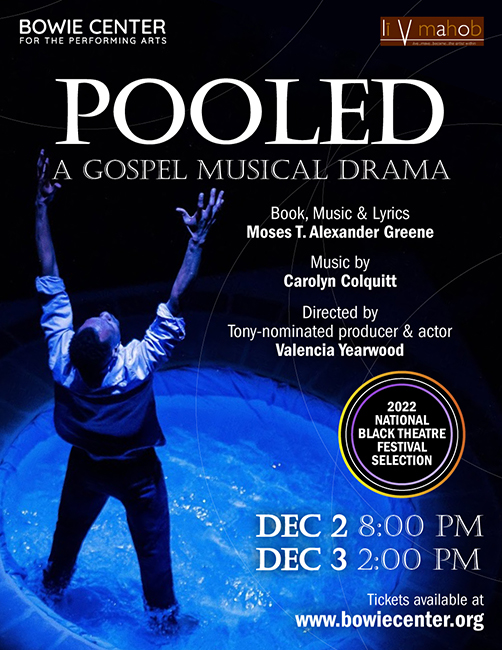 "Wade in the water / Wade in the water children / Wade in the water / God's gonna trouble the water."
Fresh from 4 sold-out encore performances at the 2022 National Black Theatre Festival and named in 2019 as "one of the 25 best Black theatre productions in the U.S., Europe, the Caribbean and Africa," this holiday season Li V Mahob Productions invites you to the regional premiere of POOLED: A Gospel Musical Drama.
Directed by Tony-nominated producer and Broadway veteran actor Valencia Yearwood (For Colored Girls, Thoughts of a Colored Man, The Lion King, Once Upon a Mattress) and written by former Prince George's County resident Moses T. Alexander Greene, POOLED is the story of Delsin Jacobs' arrival to the Pool of Bethesda and his single-minded determination to be the next person to receive its healing. According to legend, the first person to step into the Pool after its waters are touched by an angel is healed completely of any infirmity — physical, emotional, mental, relational, spiritual, sexual. Though driven by a resolve to receive a healing that enables him to see what his heart looked like before enduring adverse experiences in his childhood, it is Delsin's interactions with others there that causes him to question the purity of his quest. When his moment presents itself, he is made to confront whether he wants to be the only one healed now or not.
Under the musical direction of Carolyn Colquitt and with a score of soul-cleansing, life-giving gospel music, Greene leads a stellar ensemble including original cast members Lynnette Barber (Freedher), Allen F. Brown (Wood), Celeste Hinnant (Grandma Doll), and Loretta D. Vinson (Grandma Rose) as well as newcomers Paula Sheniece Adams, H. Bernard Alex, Cheryl Gorham Blackwell, Jaali Boyd, Kenja Brown, J. Renee Coley, Dominique Hunter, Tamika Law, Jared Little, Lloyd Pullam, and Genine Ware.
Because it's okay to be a WORK IN PROGRESS…
Because God hasn't left you BY NOW…
Because now is your time to be REWOVEN…
Come see POOLED: A Gospel Musical Drama