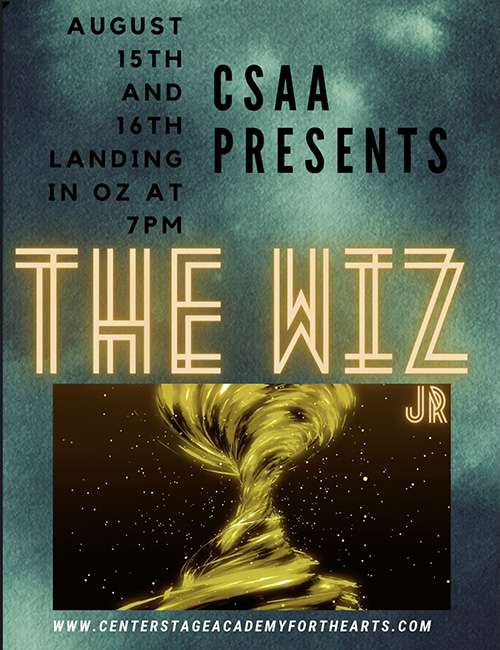 CenterStage Academy for the Arts (CSAA) Summer Performance Theatre Presents – THE WIZ!!
A joyous modern retelling of L. Frank Baum's classic children's story reflecting contemporary African American culture. After Dorothy gets swept up in a tornado, she finds herself in the fantastical world of Oz. There, she makes new friends, battles evil witches, and seeks the aid of the all-powerful and mysterious Wiz. Ultimately, Dorothy finds that, if you believe with all your heart, you can always find your way home. With an infectious soul score, dynamic numbers, and endearing cast of characters, THE WIZ is a joyous explosion of music, dance, magic, and heart to delight audience members of all ages.
CSAA's mission is to provide the ULTIMATE training ground for performers. We are committed to excellence through the arts and emphasize giving back to our communities. CSAA believes that true success lies within what you can give back to mankind, not what you can take. The Arts changes lives and creates a world full of expression, tolerance, confidence, humility and love!!!
VERY IMPORTANT – This is a LIVE PERFORMANCE!! Seating is limited due to COVID requirements. Social distancing will be practiced at this event. For the safety of our participants and everyone in attendance, MASKS MUST be worn inside the venue. ALL TICKETS MUST BE PURCHASED IN ADVANCE. There will be no ticket sales at the door.
Please arrive at 6pm to enjoy and peruse our Vendors before the show. The performance begins at 7:00pm. You do NOT want to miss any part of this amazing show!!!!
THERE WILL BE NO FLASH PHOTOGRAPHY OR VIDEOGRAPHY DURING THIS SHOW!! THANK YOU FOR UNDERSTANDING!!
Ticket sales are FINAL and Non-Refundable