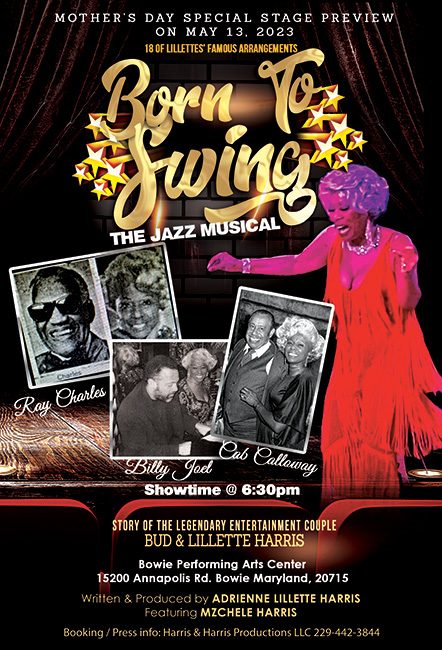 The musical BORN TO SWING tells the story of the 85-year career of renowned concert pianist, composer/arranger, entertainer and philanthropist Lillette Harris (later known as Lillette Jenkins). It also tells how she and her husband, Actor & Comedian Bud Harris, in 1945 were the first Blacks to own Lillette's Rhythm Club, a Nightclub, Casino, and Hotel in Sparks-Reno Nevada during the racially charged Jim Crow era. While performing concerts around the world she also entertained the troops for four years in the USO during World War II. She later recorded five separate jazz and gospel albums that are still selling. Films, TV, Broadway and Off-Broadway shows as Musical Director are also part of her legendary career.
Lillette has shared the stage with music legends who were friends like Nat "King" Cole, who after recording the song "Lillette" dedicated it in her honor. Just to name a few she also shared the stage with greats like Cab Calloway, Lena Horne, Billy Joel, Ray Charles, and Duke Ellington who nicknamed her "Queen of the Keys." BORN TO SWING is penned by her daughter, Publicist & Producer Adrienne Lillette Harris, as a love letter to her mother who died from Alzheimer's disease at the age of 96 in 2020. Adrienne remarks: "In spite of her diagnosis, my mother could play the piano for up to three days before she passed away." Lillette spent her final years in Columbia, Md with her two daughters and family.
Song Stylist and Actress MzChele Harris is cast as Lillette's alter ego in the play and narrates the story brilliantly through visuals, music and dance. She is accompanied by some of the best musicians and dancers that Maryland has to offer. Don't miss this awesome tribute!
BORN TO SWING debuts Mother's Day weekend Saturday, May 13th at 6:30 p.m., at the Bowie Performing Arts Center, where it will be taped for later broadcast.
Lillette's Foundation for the Arts Inc. will be making a donation from the musical to the National Alzheimer's Association in the name of Lillette.
For more show information Visit: https://www.lillettesfoundation4thearts.org/current-production